Did you know that since Word 2007, Microsoft natively supports publishing directly to WordPress? It's true! Why would you want this? In my case, I regularly create documentation at work that would likely be useful to a wider audience.
I create this documentation in Outlook and unfortunately due to the HTML rendering engine used in Outlook, the formatting never comes out right, especially around bullets. However, if you publish from Word, it takes care of all that translation for you!
At a high level, it works like this:
Enable the Publish as Blog Post function in Word
Create an account on your wordpress site to be used by the login page (Note the login happens over HTTP so you don't want to use your administrator account)
Set up your account in Word and point it at your xmlrpc.php file on your server
The Details

Login to your wordpress site and go to Users and Add User
Pick a username and assign Editor permissions.
From Word 2007+, Click File

Click Publish as Blog Post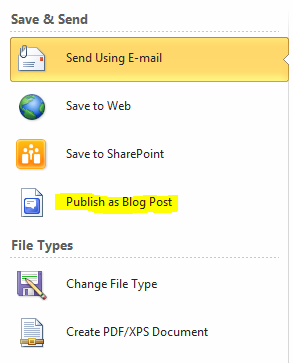 Click Publish as Blog Post
Some new buttons and tab will appear in Word
Click Manage Accounts (Note should be asked to jump to this screen the first time you try to add a new blog post)
In the Blog Post URL, enter the path to your xmlrpc.php file (usually in the root of your site ie: http://www.example.com/xmlrpc.php)
Enter the user name and the password you created above
Select Picture Options
If you hosting provider allows you to upload images, you can leave it at "my blog provider". Otherwise you'll need to set up a third party image hosting service
Write your post and hit Publish
That's it. You can also bring up posts and edit them through the Open Existing

Have fun!